An unorganized computer makes it more difficult to find information and a computer that is cluttered with unnecessary files and email messages can be sluggish. So if you haven't organized your computer recently and it's running slower than you'd like (or you're having trouble finding things), the tips in this article can help you delete or move old files and email and can even help you do a thorough cleanup.
Clear out your old, unnecessary files
So how long should you keep old files on your hard drive? If you haven't used a particular file for several months, you can probably delete it or, better still, store it somewhere else.
How can you tell how old a file is? In the folder where the file is stored, rest your mouse pointer over the file name to see when it was last modified. For more information, right-click the file name and choose Properties. You can see when the file was created, last modified, and most recently accessed. If a file is old and hasn't been accessed in more than six months, it might be time to clear it out. If you're not certain, it's a good idea to open it just to be sure you won't need it soon.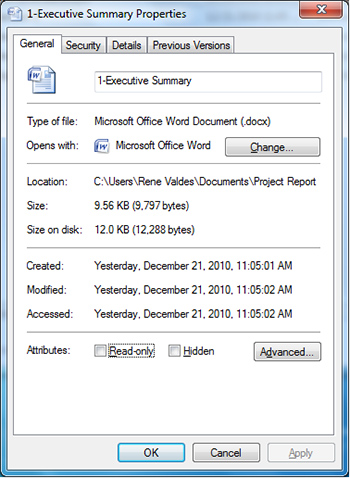 By looking at the properties of a file, you can see when the file was created, last modified, and most recently accessed.
You're the best judge to determine which files to keep, but you might want to consider saving these items:
Tax and legal information
Project-related files
Favorite digital images from the year
Plans you could leverage for future projects
Important email messages
Customer information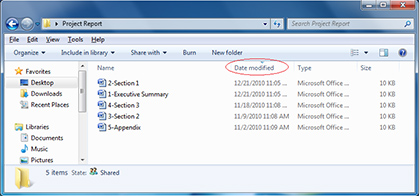 To quickly find files, organize them by the date they were modified.
One more quick and easy way to clear out files is to empty your Recycle Bin. All the files that you have deleted still exist on your computer until you empty your Recycle Bin. To empty the recycle bin; right-click the Recycle Bin icon on your desktop and then click Empty Recycle Bin.
Note: If you're concerned that, in your efforts to clean up your computer, you might have deleted files that you still need, click Open and then review the files in the bin before you empty it. To get back deleted files that you removed by mistake, select those files, and then click Restore to put them back to their original locations.
Back up important files
The next step in cleaning up your computer is to copy selected files to another storage medium, such as a writeable CD or DVD or an external hard drive. For your most important files, like project files, key presentations, or large emails, you'll rest a lot easier if you have a backup copy stored safely away from your computer—just in case you lose your computer or it fails. Windows backup features make this step much easier and can help you automate the process. To back up your files, it's ideal to have a CD or DVD burner or an external hard disk drive you can connect to your computer through a USB or FireWire port.
Tip: If you're backing up your information to a CD or DVD, be sure to create labels for your CDs that clearly describe their contents. For example, you might title the CD "2010 Archive," or be more specific with something like "2010 Presentations."
---
Clean out your email
Do you have a system for weeding out and organizing your old email messages? Here are a few easy ideas to tame your email inbox and to help avoid email buildup in the future:
Create folders where you can store messages by sender, topic, or date.
Create email rules to file and manage your messages automatically. For example, you can create a rule to send all messages from your manager to a special folder.
Use Mailbox Cleanup to assess, locate, and archive email. In Outlook 2003 and 2007, open the Tools menu and click Mailbox Cleanup; in Outlook 2010, open the File menu and click Options, then Mailbox Cleanup.
Go through your Sent folder in Outlook, and delete items you no longer need (especially those with large file attachments).
If you're sure you no longer need email you've deleted, permanently delete it all from Outlook by manually or automatically emptying the Deleted Items folder
---
Organize and clear out your Internet files
If you're like most of us, you do a lot of web searching and your Internet Explorer Favorites folder is bursting at the seams. It could probably use some weeding out and organizing. To organize your Favorites in Internet Explorer, on the Favorites menu, click Organize Favorites.
To access most of the cleanup tasks that you can do in Internet Explorer, on the Tools menu, click Internet Options. In the Internet Options dialog box, on the General tab, you have two cleanup options: You can delete the temporary files that websites store on your PC, and you can set up Internet Explorer to save your history for only a specific number of days—or none. These steps can help you to reduce the number of unnecessary files on your computer.
In the Browsing history section, click Delete to remove all temporary files, including your browsing history, cookies, saved passwords, and web form information. You can also select the Delete browsing history on exit check box to delete history automatically each time you close Internet Explorer.
In the Browsing history section, click Settings. In the History section, you can specify the number of days that Internet Explorer should save the list of sites you've visited.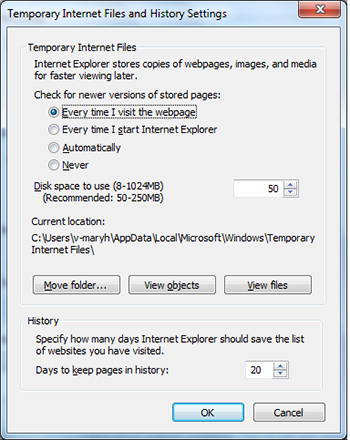 Manage your list of sites visited in Internet Explorer in the Temporary Internet Files and History Settings dialog box.



Adapted from an original article written by: Katherine Murray.